The Lancet publishing group organized a commission of medical experts to address the state of Prevention, Intervention, and Care of Dementia. The report was presented in July of 2017:
The Lancet International Commission on Dementia Prevention and Care.
(The document is only http, not https; just tell your browser to go ahead anyway.) Nine specific contributing factors to the risk of dementia were listed, all of them manageable by individuals. Collectively, these factors accounted for more than a third of the risk of dementia. The report groups these factors by early-/mid-/late-life periods of major effect, and assigns a percentage number indicating the reduction in dementia risk that would be achieved by properly handling that factor. These factors, grouped and with assigned risk reduction values, were:
Factor
% responsible for risk
Early-Life:
Failing to complete secondary education –
–  8%
Mid-Life:
Hearing loss –
–  9%
High blood pressure –
–  2%
Obesity –
–  1%
Late-Life
Smoking –
–  5%
Failing to seek early treatment for Depression –
–  4%
Physical inactivity (lack of exercise) –
–  3%
Social isolation –
–  2%
Type 2 diabetes –
–  1%
---
Total potential risk reduction: 35%
The report also mentioned several additional lifestyle factors or life events for which conclusive data were not available, but which are likely to be significant for risk reduction:
Adhering to the Mediterranean diet
Limiting alcoholic intake to only moderate amounts
Avoidance of head injuries
Management of sleep disorders
Bilingualism
Living away from major roads
The following excellent info graphic about the factors appears in the report: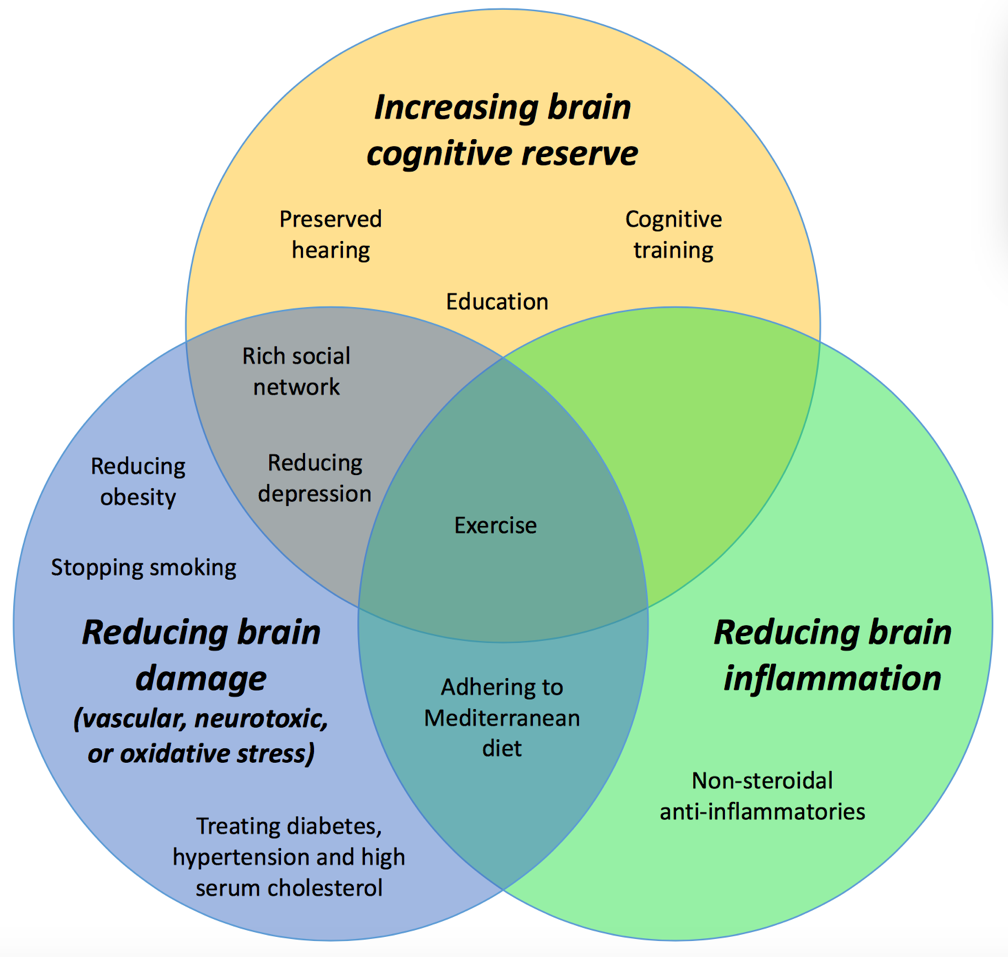 It is definitely worth noting that the three major interventions recommended by the expert panel of the US National Academies of Sciences, Engineering, and Medicine (NASEM) were:
Exercise, Manage Blood Pressure, Engage in Brain Training.
These solidly overlap with the Lancet recommendations. (See 3 Good Things To Do For Your Brain: Exercise, Manage Blood Pressure, Brain Training).
Here are four media articles about the Lancet report:
Nine lifestyle changes can reduce dementia risk, study says
Lifestyle changes could prevent a third of dementia cases, report suggests
https://www.sciencedaily.com/releases/2017/07/170720094907.htm
Is Dementia Preventable?
All links have been added to Alzheimer's > Amelioration/Prevention.